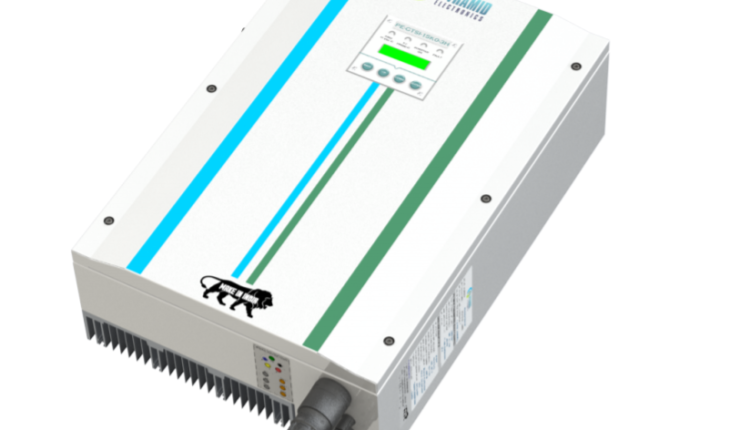 String solar inverter from Indian producer – pv journal India – pv journal India
Pyramid Electronics has presented three-phase string solar inverters based on silicon carbide power devices. The inverters are available with ratings from 5 kW to 15 kW, including models with three Maximum Power Point trackers.
August 31, 2021 Uma Gupta
15kW three-phase triple MPPT inverter from Pyramid Electronics
Pyramid electronics
Pyramid Electronics from Haryana has presented three-phase, grid-connected string inverters for private and commercial solar applications on the roof. The inverters are based on silicon carbide (SiC) technology, which enables high power conversion efficiency and power density.
The inverters are available in power classes from 5 kW to 15 kW with a maximum DC input voltage of 1000 V. The inverters with 10 kW, 12 kW and 15 kW have three Maximum Power Point Trackers, one for each of the three PV strings that can be connected to the inverter. The MPPT range is 80-800 V DC.
With triple MPPT trackers, there is no parallel connection of PV strings in the inverter and thus, according to the manufacturer, excellent MPPT efficiency is achieved.
The 15kW inverter offers an efficiency of 98.2-98.4% and a European efficiency of 97.5%. It weighs 29 kg with dimensions of 600x420x185 mm3.
Three PV strings with 15-20 modules can be connected in series to the 15kW inverter. With a maximum continuous input current of 17 A per PV string, the inverter is even compatible with bifacial monocrystalline PV modules with high power, which have a maximum power point current of up to 15 A.
With the maximum continuous mains current of 25 A (per phase), the inverter has an excellent overload capacity and can feed up to 18 kW of power into the mains at a nominal mains voltage of 415 V.
Both WiFi and GSM are integrated in all inverters for remote monitoring. End customers can remotely monitor solar power generation using the company's mobile application, Pyramid Solar, which is available for both Android and IOS versions.
This content is protected by copyright and may not be used any further. If you would like to work with us and reuse some of our content, please contact: editors@pv-magazine.com.