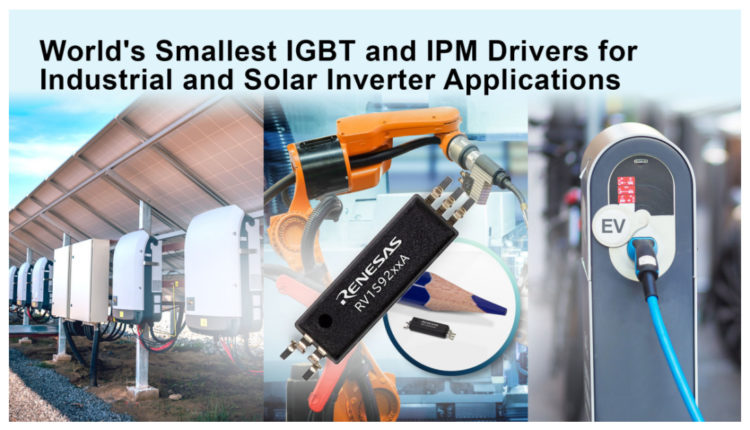 Renesas Expands Portfolio of World's Smallest Photocouplers for Industrial Automation and Solar Inverter Functions – Enterprise Wire
TOKYO–(BUSINESS WIRE) – Renesas Electronics Corporation (TSE: 6723), a leading provider of advanced semiconductor solutions, today added three new devices to its family of 8.2mm creeping photocouplers designed to operate in harsh industrial automation equipment, solar inverters and EV chargers are designed. With a size of only 2.5 mm x 2.1 mm in an LSSO5 package, the world's smallest optically isolated IGBT drivers and the IPM (Intelligent Power Module) driver reduce the mounting surface for printed circuit boards compared to other devices on the market by up to 35 percent.
"Manufacturers of industrial equipment and green energy systems are currently facing two key challenges: devices need to get smaller, reduce the size to make the factory floor more efficient, and require more functional devices with the same board size, while safety standards become stricter," said Philip Chesley, Vice President of the Industry and Communication division at Renesas. "Our expanded portfolio of small isolation devices gives customers greater layout flexibility with more options to enable longer secured creepage distance for high voltage inverter control applications."
The new IGBT drivers RV1S9231A 2.5A and RV1S9207A 0.6A as well as the active IPM driver RV1S9209A with high output are supplied in low-profile LSSO5 packages with a pin spacing of 0.65 mm, provide an insulation voltage of 5,000 Veff and support high temperature operation up to 125 ° C. in order to withstand the harsh operating environments. The photocoupler trio also supports 200V and 400V systems with reinforced insulation to meet stringent occupational health and safety standards and meet stringent UL61800-5-1 standards for motor drive equipment.
Renesas has identified and created a system architecture for various applications in which the RV1S92xxA product family offers noticeable added value for the system. With a new "winning combination" for frequency converters / GP inverters with the RV1S92xxA product family, customers can, for example, downsize their industrial plants and inverter systems that comply with the UL61800-5-1 standard. Renesas & # 39; Winning Combinations are tested system architectures made up of compatible devices that work together seamlessly. Renesas offers over 200 winning combinations for a variety of uses and end products, which can be found at renesas.com/win.
Availability
The RV1S9209A, RV1S9231A, and RV1S9207A photocouplers are available immediately from Renesas' worldwide distributors. Further information on the broad optoelectronic portfolio can be found at: renesas.com/photocouplers.
About Renesas Electronics Corporation
Renesas Electronics Corporation (TSE: 6723) provides trusted innovations in embedded design with complete semiconductor solutions that enable billions of connected, intelligent devices to improve the way people work and live. Renesas is a leading global provider of microcontrollers, analog, power and SoC products, providing comprehensive solutions for a wide range of automotive, industrial, infrastructure and IoT applications that help shape an unlimited future. Learn more at renesas.com. Follow us on LinkedIn, Facebook, Twitter and YouTube.
(Remarks). All product or service names mentioned in this press release are trademarks or registered trademarks of their respective owners.