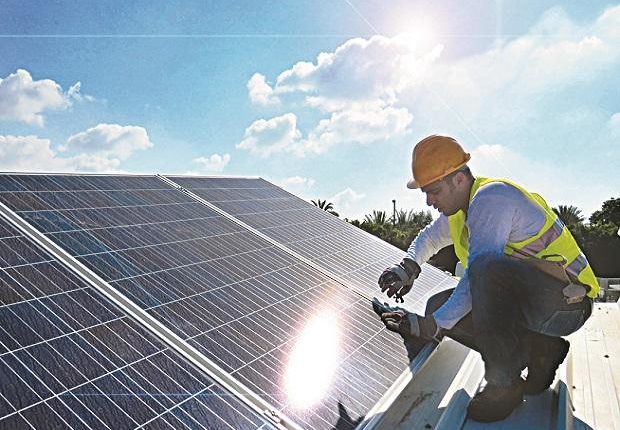 India will levy a 40% tariff on imports of solar methods from subsequent 12 months – Enterprise Customary
India will impose a 40 percent tariff on imports of solar panels from April next year to reduce reliance on overseas supplies and encourage domestic manufacturing of the devices, the Renewable Energy Ministry said.
The Treasury Department has approved the proposal, which also includes a 25 percent tariff on imports of solar cells, the ministry said in a note posted on its website. There was no mention of how long the taxes will apply.
India first proposed taxes on imports of solar power systems in the middle of last year after the supply chain was disrupted by viruses and deadly border skirmishes with China, which supplies nearly 80 percent of India's modules.
"The prices are too high and add to the cost of solar energy for distribution companies and consumers alike," said Pinaki Bhattacharyya, country chief for India at renewable energy producer Amp Energy. "The government should have given direct subsidies to manufacturers to help them expand their capacities, and that would have been beneficial to the sector."
As part of its strategy to move to cleaner energy sources, India plans to increase its renewable energy capacity five-fold to 450 gigawatts by 2030. According to the ministry, around 280 gigawatts of this will come from solar energy. The government sees the domestic solar industry as critical to achieving this goal, while the tax plan is also part of a larger undertaking to create jobs and revitalize a pandemic-ravaged economy.
Dear Reader,
Business Standard has always endeavored to provide updated information and commentary on developments that are of interest to you and have far-reaching political and economic implications for the country and the world. Your encouragement and constant feedback to improve our offering has only strengthened our determination and commitment to these ideals. Even in these troubled times resulting from Covid-19, we continue to strive to keep you updated with credible news, authoritative views, and concise comments on relevant topics.
However, we have a request.
As we fight the economic impact of the pandemic, we need your support even more so that we can continue to provide you with higher quality content. Our subscription model has received an encouraging response from many of you who have subscribed to our online content. A larger subscription to our online content can only help us achieve our goals of offering you even better and more relevant content. We believe in free, fair and credible journalism. Your support through more subscriptions can help us practice the journalism to which we are committed.
Support of quality journalism and Subscribe to the Business Standard.
Digital editor