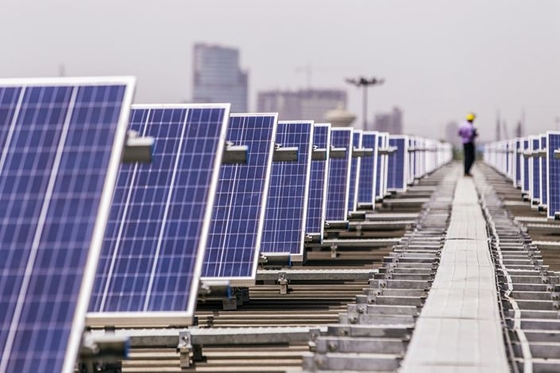 India Taxes Solar System Imports To Assist Native Companies – Caixin World
(Bloomberg) – India will impose a 40% customs tax on imports of solar panels from April next year to reduce reliance on overseas supplies and encourage domestic manufacturing of the devices, the Renewable Energy Ministry said.
The Ministry of Finance has approved the proposal, which also includes a 25% tariff on imports of solar cells, the ministry said in a note posted on its website. There was no mention of how long the taxes will apply.
India first proposed taxes on imports of solar power systems in the middle of last year after virus disrupted the supply chain and deadly border skirmishes with China, which supplies nearly 80% of India's modules.
"The prices are too high and add to the cost of solar energy for distribution companies and consumers alike," said Pinaki Bhattacharyya, country director for India at renewable energy producer Amp Energy. "The government should have given direct subsidies to manufacturers to help them expand their capacities, and that would have been beneficial to the sector."
As part of its strategy to move to cleaner energy sources, India plans to increase its renewable energy capacity five-fold to 450 gigawatts by 2030. According to the ministry, around 280 gigawatts of this will come from solar energy. The government sees the domestic solar industry as critical to achieving this goal, while the tax plan is also part of a broader endeavor to create jobs and revitalize a pandemic-ravaged economy.
India is currently levying a 14.5% protective tax on imports of solar cells and modules from most countries, including China, which is due to expire in July. Companies participating in project auctions should consider the government's new tax plans, the ministry said.
Contact Editor Michael Bellart (michaelbellart@caixin.com)
Supporting quality journalism in China. Subscribe to Caixin Global starting at $ 0.99.
Follow the Chinese markets in real time with Caixin Global's new stock database.