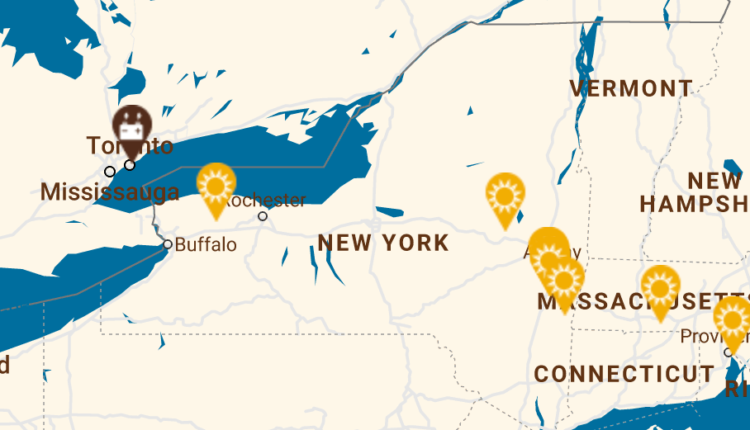 Hecate is one step nearer to constructing an enormous solar mission in NY
Hecate energy has submitted an application to the New York State Office of Renewable Energy Siteing (ORES) to build a 500 MW solar park in the western New York cities of Elba and Oakfield. This is the first new application submitted under the state's new approval process for large renewable projects.
If approved and built, the Cider Solar Farm would be the largest solar project ever built in the state. The $ 500 million private infrastructure investment is expected to create over 500 construction jobs and be able to deliver 920,000 MWh of renewable electricity per year.
"This project is a concrete example of the scale and speed with which we need to move to meet key renewable energy goals," said Harrison Luna, project manager at Hecate. "We very much appreciate the leadership role of the Elba and Oakfield city governments in this important pilot project. Our discussions helped us understand how to plan the project taking into account the priorities of the communities in which we would like to become neighbors. These officials helped us match the needs of the communities with the needs of the project. "
Initially, the project looked for leases and options for approximately 4,000 acres in the towns of Elba and Oakfield in Genesee County. As the understanding of local priorities became clearer, detailed site and study efforts allowed Hecate to refine the project's footprint on approximately 2,800 acres of land in the two cities.
The New York Accelerated Renewable Energy Growth and Community Benefit Act created the new ORES and rules for approving large renewable energy projects. The aim is to improve the location and construction of projects that are environmentally sound, cost-effective and implemented in a timely manner with the help of local communities. Hecate's Cider Solar 94-c application, prepared by Buffalo-based Stantec Consulting Services in coordination with the law firm Foley Hoag LLP, is the first new application filed with ORES under 94-c regulations, and represents an important milestone in the state project that enables progress.