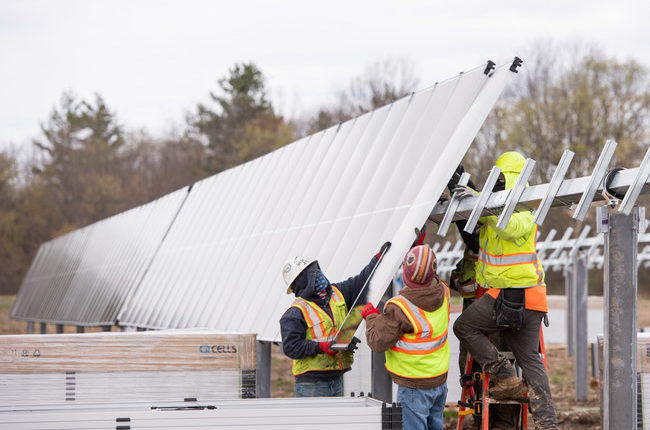 CS Vitality is breaking new floor with its first New York-scale solar initiatives
CS Energy, an integrated energy company that designs and builds optimized projects in the solar, storage and emerging energy industries in close partnership with the Goldman Sachs Renewable Power Group (GSRP) and the New York State Energy Research and Development Agency (NYSERDA). has successfully developed and commenced construction of new utility-scale solar projects across New York with 216 MW DC power.
The projects are expected to be operational by the end of the year. This makes them the first commercial solar projects on a utility scale in the state of New York.
The portfolio consists of the following geographically different project mixes:
Darby Solar – 27 MW DC – Capital Area – Easton, N.Y.
Branscomb Solar – 27 MW DC – Capital Area – Easton, N.Y.
Stillwater Solar – 27 MW DC – Capital Area – Stillwater, NY, developed by East Light Partners, acquired by GSRP and built by CS Energy
Grissom Solar – 27 MW DC Power – Mohawk Valley – Mohawk, N.Y.
Regan Solar – 27 MW DC Power – Mohawk Valley – Mohawk, N.Y.
Pattersonville Solar – 27 MW DC Power – Mohawk Valley – Pattersonville, N.Y.
Janis Solar – 27 MW DC Power – Southern Tier – Willet, N.Y.
Puckett Solar – 27 MW DC Power – Southern Tier – Greene, N.Y.
Under the direction of New York Governor Andrew Cuomo, the New York Public Service Commission set the Clean Energy Standard in 2016, which was further strengthened by the Climate Leadership and Community Protection Act of 2019 and sets 70% of the electricity consumed in New York The Eight Solar projects, developed in close consultation with the local community and regional stakeholders, were awarded renewable energy contracts by NYSERDA as part of the call for proposals for the Renewable Energy Standard in 2017 and 2018.
With over 500 construction jobs, the solar portfolio will continue to support the renewable energy installer employment segment – already recognized as one of the fastest growing employment segments in New York. In addition to jobs, the projects represent over $ 160 million in private investments and are expected to deliver over $ 80 million in benefits to local communities and regions. These benefits benefit local landowners, property tax jurisdictions, and local contractors who support the day-to-day operations and maintenance of the projects.
"CS Energy is proud to continue helping New York achieve its ambitious clean energy goals," said Eric Millard, CCO of CS Energy. "We're proud to work closely with local communities to lead the first utility-scale solar projects in New York State. Additionally, we are delighted to have worked with the fantastic teams at GSRP, NYSERDA and National Grid, all of whom have been instrumental in making these projects successful. "
To date, CS Energy has built solar projects in New York with a direct current output of over 150 MW. By the end of the year this number will be 500 MW direct current. CS Energy recently opened a regional headquarters in Albany to further support the company's growth. The company currently employs more than 45 full-time project management and engineering people in the state and supports a robust network of construction workers, local suppliers and subcontractors.
CS Energy chose to partner with the GSRP to provide the financing and asset management services necessary to successfully build, own and operate the projects. GSRP is a strong advocate for renewable energy and currently owns and operates more than 2.3 GW of clean electricity nationwide.