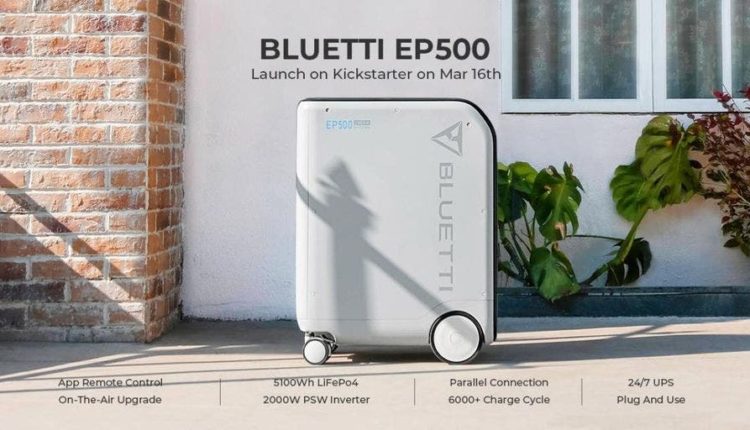 BLUETTI EP500 launched: Big solar battery with 5100 watt hours – Gizchina.com
As an innovative pioneer in the renewable energies sector, BLUETTI has made a name for itself in the off-grid power world with its ultra-modern and reliable product lines for power plants. In addition to medium and small size portable power plants, they are also devoted to the research and development of high performance solar battery storage products with large capacity.
In July 2020, Bluetti took the first step to replace traditional gasoline generators with their groundbreaking AC200. The AC200 features a 2000 watt inverter with a battery capacity of 1700 watt hours, a wide range of electrical outlets (including a groundbreaking 25 amp 12 volt outlet) and solar power up to 700 W with an advanced built-in MPPT controller . The AC200 raised over $ 6.8 million on Indiegogo and changed the game in the portable power market immediately after its release.
After the crowdfunding was completed, a subsequent retail product, the AC200P, with extended battery life and LiFePO4 chemistry kept the legacy of the AC200 and added product improvements. The AC200P is loved by van owners, campers, and RV travelers, as well as those who are frequently exposed to power outages. The AC200P has also been well received by those wanting a complete, integrated solution for short or long term emergencies that require continuous power to their homes.
6 months later, the BLUETTI team is back with a brand new, finely engineered and handcrafted product with breakthrough capacity: the EP500.
The EP500 contains a massive LiFePO4 battery with 5100 watt hours and more than 6000 charging cycles. The inverter is designed for a continuous output power of 2000 watts with a surge capacity of 4800 watts. This inverter appears to be the same high quality and reliable device that is used for the hugely successful AC200P.
The elegant, minimalist design of the EP500 with its enormous capacity is reminiscent of the first generation Powerwall from Tesla. With the four easily rolling transport wheels, the EP500 is not intended as a large solar battery on the wall or in the garage. The BLUETTI EP500 was developed Plug and play product that does not require installation and can be easily moved to the desired location when needed.
Regardless of whether you use it as a seamless UPS backup for the home or as an off-grid emergency power supply, all you have to do is press the power button and then activate the AC / DC switches and connect the devices you want.
Compared to the long lead times when installing energy giants like Tesla or Sonnen, which take months or more than a year to schedule an installation, the no-installation BLUETTI EP500 is a milestone in the large-capacity solar battery market.
The nominal output power of the inverter of 2000 watts is high, but certainly not enough to supply all of your electrical devices with power. As an emergency power storage system for the whole family, Bluetti offers the option of doubling the alternating current output. For higher loads, Bluetti is bringing its own "Fusion Panel Terminal Strip" onto the market. With this accessory board, users can daisy chain two EP500s to double the power rating of 4000 watts. The Fusion board also offers the option of a 220/240 volt outlet for powering 220 volt devices. Thanks to the high performance, you can now easily operate your household air conditioning, tumble dryer, electric wall heating and other high-performance devices. You no longer have to worry about power outages on hot summer nights or cold, bitter winters.
The BLUETTI EP500 now supports the remote app for remote monitoring and operation. With its exclusive B-Lynk connection technology, you can easily monitor the status of your EP500 and adjust settings, whether it's near you or thousands of miles away. You no longer have to go to a device to find out the remaining battery or inverter capacity.
Equipped with the battery with the highest capacity ever offered in the BLUETTI series, the EP500 also offers a powerful solar charging function with an output of up to 1200 watts via its integrated MPPT input. In first-class sunlight, a full charge with sunlight alone takes only 5 hours. The EP500 can also be charged with 600 watt input and AC power outlets. A built-in power supply is included, so you can charge it with just a single power cord without the need for a separate high-performance chip.
Do you still want to charge faster? This class leading device can be charged up to 1800 watts (1200W + 600W) by using the two input ports at the same time. If you charge both ports at the same time, the batteries will be fully charged in just 3 hours.
Last but not least, apart from the detailed specifications and the explanation of new functions, there are two more questions that will occupy many people: How long can I use my items and how does the customer service work for BLUETTI? Products?
According to official information, the EP500 comes with the exclusive, tailor-made, long-life LiFePO4 battery cells from BLUETTI. The self-developed battery management system including the rechargeable battery has a maximum of 6000 charging cycles. With an average household electricity consumption of 3 kWh per day, the BLUETTI EP500 can achieve a theoretical service life of up to 40 years without mains energy! In addition, BLUETTI offers a 5-year guarantee and lifetime technical support for this market-leading EP500. From what we can tell based on feedback from current consumers, BLUETTI is trustworthy for customer service and support.
The pre-order for EP500 starts on the crowdfunding platform Kickstarter on March 15 at 6:00 a.m. PDT. It is estimated that the price of super early bird discounts will be under $ 3,000. You can already subscribe to the latest information on the official website via this link.